In this guide, we will show you various workarounds to fix the issue of being unable to import photos via iTunes between iOS 16 and macOS Mojave. The software from the Cupertino giant beholds a slew of intriguing features, including the likes of a media player, media library, and mobile device management utility. However, as of late, it is giving out a tough time to users who have an older version of macOS.
Numerous iOS 16 users have voiced their concern that they are unable to import photos via iTunes on their macOS Mojave. Whenever they are trying to do so, they are instead greeted with the 'The operation couldn't be completed' error message. Along with that, the error codes '9956' and '9937' also tend to appear in some instances.
To narrow down the culprit, users tried using iOS 15.7 and Mojave and the process went without any hiccups. So the culprit is the latest iteration of iOS. Unfortunately, this issue is present even in the latest released OS build, iOS 16.0.3, as well. With that said, there does exist a couple of nifty workarounds that shall help you resolve this bug. So without further ado, let's check them out.
Fix Cannot Import Photos via iTunes: iOS 16 and macOS Mojave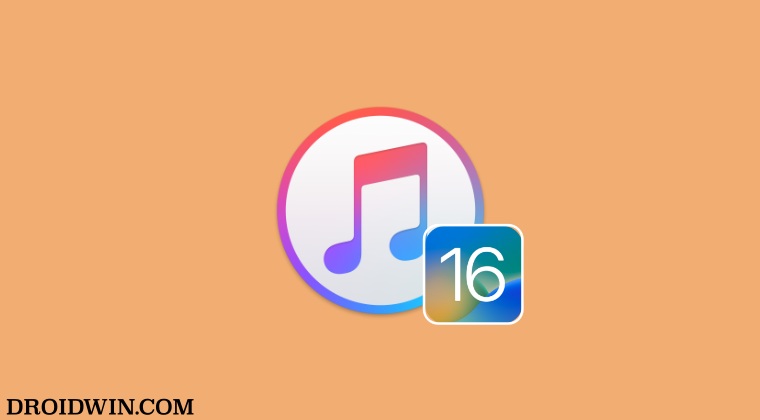 It is recommended that you try out each of the below-mentioned workarounds and then see which one spells out success for you. So with that in mind, let's get started.
FIX 1: Update to iOS16.1 Beta 3

 
Many beta testers have confirmed that the issue has been rectified in the latest beta build. So you could try out this latest beta update and then check out the results. Here's how it could be done:
Head over to the Apple Beta page and sign in with your Apple ID.
Then log in to the Beta Software Program and click on Enroll your iOS device.
Now go to the Apple Beta Profile website on your iPhone.
Then download and install the configuration profile.
Now go to Settings >General > VPN and Device Management and select your iOS 16 beta profile.
You will now get the latest beta update, download it from Settings > General > Software Update.
Once done, check if you are able to import photos via iTunes between iOS 16 and macOS Mojave.
FIX 2:
Downgrade to iOS 15.7
As already documented before, the culprit behind this issue is the latest iOS 16 update. So you should consider downgrading to the earlier iOS 15.7 version and then check if it spells out success for you. To do so, you will first have to download the IPSW file of iOS 15.7 and then perform the downgrade via iTunes [you will also be able to restore your iOS 16 data backup on your iOS 15 device!]. Please refer to our detailed guide to try out this downgrade: How to Downgrade from iOS 16 to iOS 15 [Any Version] without Data Loss.
FIX 3: Use a Third-Party App
If you don't want to enroll as a beta tester or downgrade to an older OS, then your last course of action is to make use of a third-party app. Over at the Apple forums, some users have recommended Wetransfer which could transfer up to 2GB of files in one go. So you could give it a try or any other one of your choices.
That's it. These were the three different methods that shall help you fix the issue of being unable to import photos via iTunes between iOS 16 and macOS Mojave. As far as the official stance on this matter is concerned, the developers are yet to acknowledge this issue, let alone give out any ETA for the rollout of a fix. As and when any of these two things happen, we will update this guide accordingly. In the meantime, the aforementioned workarounds are your best bet.
---
About Chief Editor