The Silicon Valley giant has made its update cycle quite confusing to understand. Generally, it used to first roll out the QPR update, then that update moved over to the stable build and only after that a new QPR update was rolled out. However, that no longer seems to be the case. While the first Quarterly Platform Release is still yet to reach the stable stage, Google has already rolled out its second iteration.
This time around, there are a slew of new features and UI tweaks to look forward to. Some of the noteworthy ones include the likes of a per-app screen recorder, new privacy indicators, faster update installations, the ability to quarantine apps, and a few UI/UX tweaks. Talking about the latter, the Volume Slider has undergone a slight revamp in Android 14 QPR 2 Beta, which has made keeping track of the current volume all the more disjointed.
The new Volume Slider in Android 14 QPR 2 Beta is confusing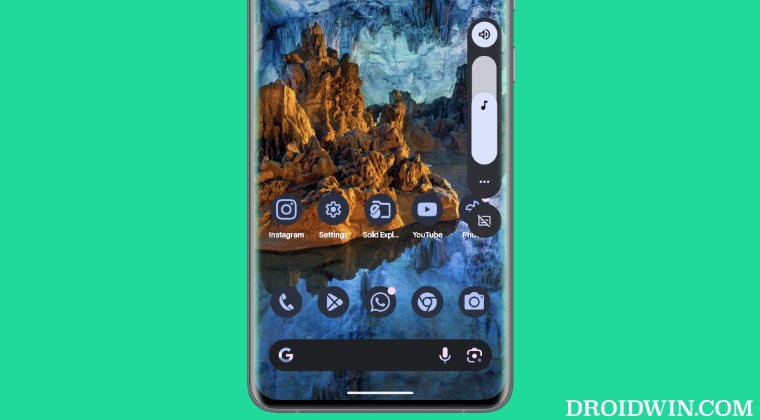 Earlier, we just had a vertical line over which the volume slider could be slid, but now,  that has been replaced via a thick circular layer in sync with the Material You theme. So as soon as you press the Volume key, more often than not you'll be mistaken that the Volume Slider is all the way to the top and hence the Volume is at the maximum level.
There should have been a more concrete differentiation between the current volume level and the circular layer that beholds the volume slider. Earlier, the ending of the slider was met with the beginning of the vertical line, so it was easier to get hold of the current volume level at one glance, which unfortunately is no longer the case. Thanks to this new UI change, the incoherency is sure to make the matter worse for the end users in the days to come.
The only glimmer of light at the end of the tunnel could be the fact that the feature is still in the beta stage, so we might see a more polished version of the same once it reaches the stable stage. Talking about which, that day might be somewhere in March next year, so there's plenty of time remaining for Google to amend this functionality. However, for that to happen, you should voice your concern by filing a feedback report via the Feedback app installed on your device.
---
About Chief Editor