In this guide, we will show you the steps to unbrick your OnePlus Nord N10 5G device via Fastboot Commands. There's no denying the fact that stepping into the custom development guarantees you a plethora of tweaks and customizations. And if you own a device from OnePlus, then the possibilities only multiplies. From flashing custom ROMs to installing a custom recovery like TWRP, there's a lot to try out. Along the same lines, you could also root your device via Magisk- either via the patched boot.img or using TWRP.
But this is only half the story. While these tweaks do tend to add more functionalities to your device, but on the flip side, they could prove to be risky as well. If you flash an incorrect mod or flash the correct one to the incorrect slot, then you are inviting trouble. More often than not, there's a high chance of the device going into a bootloop or getting soft-bricked. But if that ever happens with your device, then fret not. In this guide, we will show the steps to unbrick your OnePlus Nord N10 5G device via Fastboot Commands.
How to Unbrick OnePlus Nord N10 5G via Fastboot Commands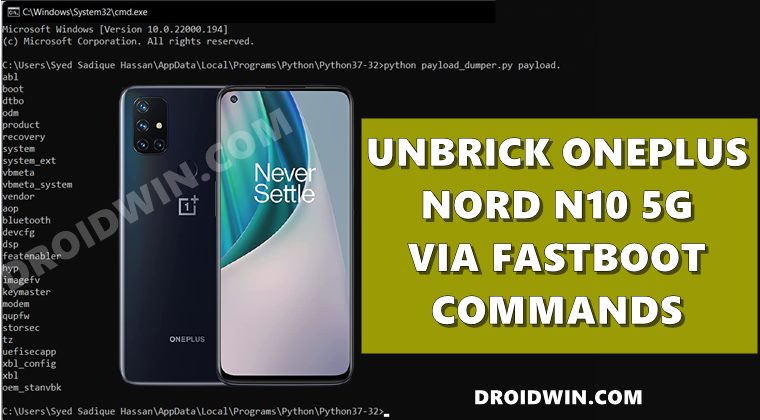 The below instructions are listed under separate sections for ease of understanding. Make sure to follow in the exact same sequence as mentioned. Droidwin and its members wouldn't be held responsible in case of a thermonuclear war, your alarm doesn't wake you up, or if anything happens to your device and data by performing the below steps.
STEP 1: Install Android SDK

First and foremost, you will have to install the Android SDK Platform Tools on your PC. This is the official ADB and Fastboot binary provided by Google and is the only recommended one. So download it and then extract it to any convenient location on your PC. Doing so will give you the platform-tools folder, which will be used throughout this guide.
STEP 2: Download OnePlus Nord N10 5G Firmware
Now get hold of the stock firmware for your device. As for this guide, I'm using the first stable Android 11 update that was rolled out for this device. Here's the direct (official) download link for the same: OnePlusN10Oxygen_14.E.30_GLO_0300_2106231157.
Once you have downloaded the firmware, extract it to any convenient location on your PC. This shall give you a couple of files, out of which we will be needing the payload.bin.
STEP 3: Extract Payload.bin
OnePlus packs all the IMG firmware files inside the payload.bin file. So you will have to decrypt this file to get hold of the required partition files. To do so, please refer to our guide to How to Extract payload.bin Firmware.
Once the extraction is complete, you shall get all the partition IMG files inside the Output folder (as explained in the linked guide). So copy all the files from that location and transfer them to the platform-tools folder on your PC.
STEP 4: Boot OnePlus Nord N10 5G to Fastboot Mode
Next up, you will have to boot your device to Fastboot Mode. Generally, we use the adb reboot bootloader command, but since your device is in a bricked state, you wouldn't be able to do so. Rather, you will have to take the help of the hardware key combinations. To do so, power off your device. Then press and hold the Power, Volume Up and Volume Down keys and your device will be booted to Fastboot Mode.
However, if you cannot power off your device, then let the battery drain out. Then connect it to the charger and as soon as it is booting up, press the Power, Volume Up, and Volume Down keys together. Your device will then be booted to Fastboot Mode.
STEP 5: Flash OnePlus Nord N10 5G Stock Firmware via Fastboot Commands
Head over to the platform-tools folder, type in CMD in its address bar, and hit Enter. This shall launch the Command Prompt.

Now, with your device connected to the PC via USB and booted to Fastboot Mode, execute the below commands. Make sure you copy-paste one command at a time:

fastboot flash abl abl.img
fastboot flash aop aop.img
fastboot flash bluetooth bluetooth.img
fastboot flash boot boot.img
fastboot flash devcfg devcfg.img
fastboot flash dsp dsp.img
fastboot flash dtbo dtbo.img
fastboot flash featenabler featenabler.img
fastboot flash hyp hyp.img
fastboot flash imagefv imagefv.img
fastboot flash keymaster keymaster.img
fastboot flash odm odm.img
fastboot flash oem_stanvbk oem_stanvbk.img
fastboot flash product product.img
fastboot flash qupfw qupfw.img
fastboot flash tz tz.img
fastboot flash uefisecapp uefisecapp.img
fastboot flash xbl xbl.img
fastboot flash xbl_config xbl_config.img
fastboot flash storsec storsec.img
fastboot flash system system.img
fastboot flash system_ext system_ext.img
fastboot flash vbmeta vbmeta.img
fastboot flash vbmeta_system vbmeta_system.img
fastboot flash vendor vendor.img
fastboot reboot

As soon as the last command is executed, your device should be booted to the OS.
That's it. These were the steps to unbrick your OnePlus Nord N10 5G device via Fastboot Commands. If you have any queries concerning the aforementioned steps, do let us know in the comments. We will get back to you with a solution at the earliest.
About Chief Editor