In this guide, we will show you various methods to enable 5G on your Pixel 7/Pro for both supported and unsupported regions. Google has recently rolled out the seventh iteration of Pixel devices. In this regard, the second-generation Tensor chipset, Face Unlock, built-in Google VPN, and a few camera tweaks are the major differentiating factor in comparison with its predecessor. It goes without saying that all eyes will be on the new chipset because itas first generation gave Pixel 6 users quite a difficult time.
Shifting gears, both the Pixel 7 and Pixel 7 Pro support 5G out of the box. This was already along the expected lines, so there's no element of surprise with this announcement. However, some Pixel 7/Pro users have voiced their concern that they are unable to enable 5G on their devices. If you are also currently getting bugged with this issue, then this guide will make you aware of a couple of nifty workarounds to rectify this problem. Follow along.
Enable 5G in Google Pixel 7/Pro in Supported Regions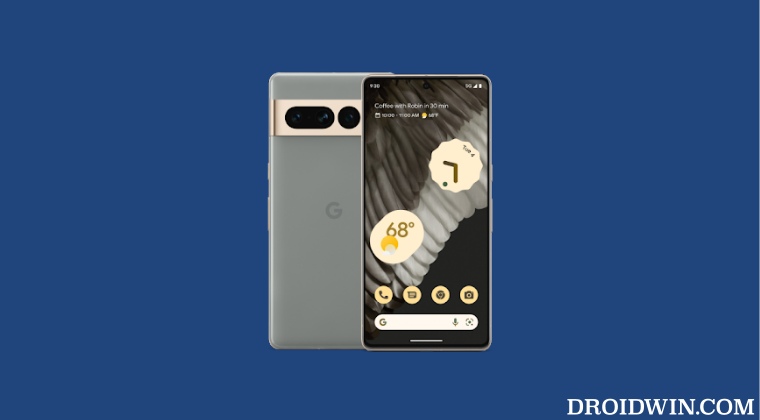 Before starting with the process, make sure Google has enabled 5G in your region. For example, in India, Google is yet to enable 5G for Pixel 7 and 7 Pro. So even if your carrier supports 5G, you might not be able to enable it until the Silicon Valley giant enables it from their end [which will happen via an OTA update]. With that said, if 5G is enabled in your region, then you could refer to any of the two below-listed methods to enable it on your device right away.
Enable 5G on Pixel 7/Pro via Settings Menu
Head over to the Settings menu on your device.
Then go to SIMs > Preferred Network Type.


Now select either 5G or 5G/4G/3G from the list. That's it
5G is now enabled and activated on your Pixel 7/Pro.
Enable 5G on Pixel 7/Pro Using Dialer Code
Bring up the dialer on your phone and input the below code:

*#*#4636#*#*

Then go to Phone Information and scroll to "Set preferred network type".
Now tap on it and select "NR only" or "NR/ LTE" [recommended].
Enable 5G in Google Pixel 7/Pro in Unsupported Regions
Even if you live in a region where 5G is not officially supported, you could still enable 5G on your Pixel 7/Pro. Let's check out how this could be carried out. Droidwin and its members wouldn't be held responsible in case of a thermonuclear war, your alarm doesn't wake you up, or if anything happens to your device and data by performing the below steps.
To begin with, root your Pixel 7/Pro via Magisk Patched Init_Boot.
Then download the VoLTE Magisk Module and transfer it to your device.
Now launch the Magisk app, go to Modules, and tap on Install from Storage.
Navigate to the VoLTE module and select it. It will be flashed onto your device. Once done, restart your device.
Then download and install the Network Signal Guru app from Play Store.
Now launch the app and tap Grant in the Magisk confirmation prompt.
Then tap on the overflow icon situated at the top right and choose Forcing Control.
Now select your SIM card, choose NR MODE SETTINGS and select SA+NSA.

Credits: XDA Member alawii_shark

Finally, reboot your device. 5G will now be enabled on your Pixel 7/Pro in unsupported regions.
What is the Difference between NR Only and NR/LTE
If you have opted for the dialer code method to enable 5G, then you might have noticed  "NR only" and "NR/ LTE", out of which, we recommended the latter one. Why is that so? If you select NR only, then your device will be forced to use only the 5G network. So in places where there are weaker 5G signals, you might not be able to make calls or send messages.
Therefore, it is recommended to opt for NR/LTE. This way if your device isn't in a region that has stronger 5G [NR] coverage, then it will be able to automatically switch over to 4G [LTE]. For the same reason, if you get an option to choose between 5G or 5G/4G/3G, make sure to opt for the latter one [5G/4G/3G].
That's it. These were the various methods to enable 5G on your Pixel 7/Pro in both supported and unsupported regions. If you have any queries concerning the aforementioned steps, do let us know in the comments. We will get back to you with a solution at the earliest.
---
About Chief Editor