In this guide, we will show you the steps to fix the Yellow exclamation mark next to Qualcomm HS-USB QDLoader 9008. Stepping into custom development, there's always a risk of things going south, in other words, the device ending up in a bootlooped or bricked state. If it is the former, then you could easily fix it by flashing the firmware via Fastboot Mode.
However, if your device gets hard bricked, then your only way out is to boot your device to EDL Mode and then flash its resultant firmware, such as flashing OnePlus OFP firmware via MSM Download Tool. But before that, you will have to install the resultant EDL Drivers. If you don't do so, then your POC wouldn't be able to identify the device connected in EDL Mode. So rather than Qualcomm HS-USB QDLoader 9008, it will show your device as QHUSB_BULK.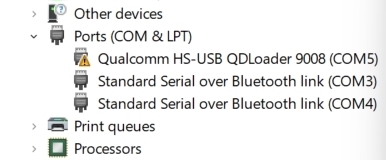 However, some users have reported that they were able to successfully install the EDL drivers and their device is being shown in the Device Manager as Qualcomm HS-USB QDLoader 9008, however, along with that there is a yellow warning exclamation mark as well. As a result of which, they are unable to flash the unbrick firmware [MSM Tool doesn't detect their device]. If you are also in the same boat, then this guide will help you out. Follow along for the fix.
Fix Yellow exclamation mark next to Qualcomm HS-USB QDLoader 9008
The reason why this is happening is due to Windows' stringent security measures that prevent the installation of these drivers. So to rectify this issue, you will have to disable Windows Driver Signature Enforcement. Here's how it could be done:
Press and hold the Shift key and while doing so, click Restart.
Your device will now reboot to Windows Recovery Environment.
Now go to Troubleshoot > Advanced Options > Startup Settings.
Then click on the Restart button situated at the bottom right.
Now press the 7 or F7 key to select Disable Driver Signature Enforcement.
Your PC will now restart with the driver signature disabled.
So reconnect your device [booted to EDL Mode] to the PC via USB Cable.
There will be no warning sign next to your device under Device Manager.
That's it. These were the steps to fix the Yellow exclamation mark next to Qualcomm HS-USB QDLoader 9008. If you have any queries concerning the aforementioned steps, do let us know in the comments. We will get back to you with a solution.
---
About Chief Editor