In this guide, we will show you the steps to unlock the bootloader on any Sony Xperia device. Regarded as the awkward middle child of the smartphone industry, this OEM hasn't able to attract much fanfare of sorts. However, even then it has managed to make its presence felt in this domain and still has maintained a loyal fanbase. And this niche segment has still managed to uplift this company in the best possible manner.
Along the same lines, the offerings from Sony, though not eye-catchy, comes with the excellent build quality. But when it comes to custom development, it still hasn't picked up the pace. Rather it has made the matter much difficult for the tech enthusiasts. This is because while a general Android device could easily be rooted by flashing the Magisk ZIP installer via TWRP or by patching and flashing the stock boot.img via Fastboot, you can't usually do so on a Sony device. What about unlocking the bootloader?
Well, it has again taken a rather different turn of events, but at least you could still carry out tasks without any issues. In this regard, the usual fastboot oem unlock or fastboot flashing unlock doesn't work with Sony devices. Rather you will have to generate an unlock code for your device and then use the same to carry out the unlocking process. And in this guide, we will show you how to do just that. So without further ado, let's get on with the guide to unlock the bootloader on any Sony Xperia device. Follow along.
---
---
Benefits and Risks of Unlocked Bootloader
Unlocking the bootloader will give you a plethora of benefits. For example, you could replace the device's stock recovery with a custom one such as TWRP. Likewise, you could also gain access to the system partition or administrative privileges. This is possible by rooting your device Magisk. Once that is done, you could then install Magisk Modules, Xposed Framework, Substratum Themes, etc.
However, performing these tweaks might have a few risks as well. The device's warranty might become null and void and all the data on your device will be wiped as well. Furthermore, WideVine L1 will be degraded to L3 and you might not be stream videos in HD on Netflix, etc. So if that's all well and good, then let's proceed with the steps to unlock the bootloader on your Sony Xperia device.
How to Unlock Bootloader on any Sony Xperia Device
We are listing out the below instructions in separate sections for ease of understanding. make sure to proceed ahead in the exact same sequence as mentioned. Droidwin and its members wouldn't be held responsible in case of a thermonuclear war, your alarm doesn't wake you up, or if anything happens to your device and data by performing the below steps.
---
---
STEP 1: Check Sony Bootloader Unlock Possibility
Not every Xperia device's bootloader could be unlocked. While most of them support this functionality, there are still a few that don't. So first and foremost, you will have to make sure that your Sony device bootloader could be unlocked. Here's how it could be done:
Open the dialer and type in the below code to bring up the Service menu

*#*#7378423#*#*

Now head over to Service info > Configuration > Rooting Status.
Check out the status next to Bootloader unlock. If it says YES then you could proceed to unlock the bootloader on your Xperia device.
On the other hand, if the answer is No or the status section is blank, then, unfortunately, you cannot carry out the below unlocking steps.
STEP 2: Get Sony Xperia Unlock Code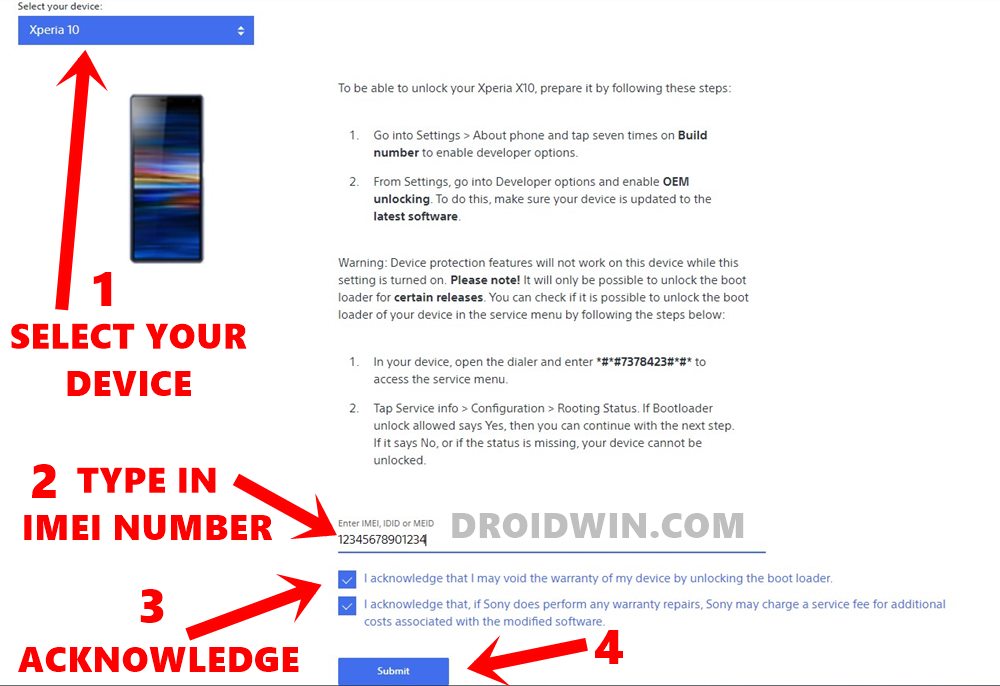 You will now have to get hold of your Xperia device's unlock code. For that, head over to Sony Unlocking Bootloader Page and scroll to the end.
Now select your device from the left-hand menu.
Then enter your device's IMEI ID in the space provided. If your device has two IMEIs, then enter the first one.
Once that is done, checkmark the two acknowledgments present at the end of the page and click Submit.
You shall now get the Bootloader Unlock Code associated with your IMEI ID. Copy and save it to Notepad (or any other place of your choice).

STEP 3: Enable USB Debugging on Sony Xperia
Next up, enable USB Debugging on your Sony device. This is needed so that your device gets recognized by your PC in ADB Mode. But why ADB? We will use this ADB mode to boot your device to Fastboot and then carry out the steps to unlock the bootloader on your Sony Xperia device. So head over to Settings > About Phone > Tap on Build Number 7 times > Go back to Settings > System > Developer Options > Enable USB Debugging.
STEP 4: Install ADB & Fastboot
Now install the Android SDK Platform Tools on your PC. This is the official ADB and Fastboot binaries provided by Google. If you have any other third-party tools installed, then I would recommend switching over to this one. Once installed, extract it to any convenient location on your PC and you should get the platform-tools folder.
---
---
STEP 5: Boot Sony Xperia to Fastboot
The next step to unlock the bootloader on your Sony Xperia device requires you to boot your device to Fastboot Mode. Follow the below steps to do so:
Connect your device to the PC via USB cable. Make sure USB Debugging is enabled.
Then head over to the platform-tools folder, type in CMD in the address bar, and hit Enter. This will launch the Command Prompt.

Type in the following command in the CMD window to boot your Xperia device to Fastboot Mode

adb reboot bootloader
STEP 6: Unlock Xperia Bootloader via Unlock Code
It's now time to unlock the bootloader on your Sony device. Make sure that your device is booted to Fastboot and connected to the PC via USB cable.
Then input the below command in the CMD window, replace CODE with the number that you got in STEP 2

fastboot oem unlock 0xCODE

Since in my case, the code came out to be C4AA5DE9F1721681, hence the above command transform to

fastboot oem unlock 0xC4AA5DE9F1721681

That's it. The process now stands complete. You may reboot the device to the OS via the below command (if it doesn't happen automatically)

fastboot reboot
So with this, we conclude the guide on how to unlock the bootloader on any Sony Xperia device. If you have any queries concerning the aforementioned steps, do let us know in the comments. We will get back to you with a solution at the earliest.
---
About Chief Editor