In this guide, we will show you the steps to unbrick Realme 6/6I/6S devices (RMX2001, RMX2002, and RMX2003 ) using the SP Flash Tool. All these three devices from the OEM are quite active players in custom development. Be it for flashing custom ROMs, installing a custom recovery like TWRP, or gaining access to the system partition via Magisk, the possibilities are endless.
However, on the flip side though, these tweaks could bring in uninvited risks as well. More often than not, it could result in a soft brick or bootloop. But even if that happens, there's still a way out by flashing stock firmware via Fastboot Commands. However, the real issue arises when the device gets stuck in a hard brick as there's no way of accessing Fastboot or Recovery Mode.
But fortunately, there's a handy way out to fix this issue. Now that the SLA and DAA Authentication of SP Flash Tool could easily be bypassed, it has made out work much easier. Making use of the same, this guide will show list out the steps to unbrick Realme 6/6I/6S devices using the SP Flash Tool. So without any further ado, let's get started.
---
---
How to Unbrick Realme 6/6I/6S via SP Flash Tool
The below instructions are listed under separate sections for ease of understanding. Make sure to follow in the exact same sequence as mentioned. Droidwin and its members wouldn't be held responsible in case of a thermonuclear war, your alarm doesn't wake you up, or if anything happens to your device and data by performing the below steps.
Download Realme 6/6I/6S/Bypass Tools Pack
This pack contains the required bypass MTK files for SP Flash Tool. You might have to temporarily disable Windows Firewall or it would flag it as a virus and wouldn't let you download the file. [Or you may download it to any other smartphone and then transfer it to your PC]. Download Bypass Tools Pack. Credits: XDA Senior Member daeSundae.
Download Decrypted Realme Firmware Package
We have shared two different firmware builds- Full and NOU Firmware. The difference between the two is that the Full Firmware also contains the UserData partition data whereas NOU ('NO U'ser data) doesn't. So if you're having decent network bandwidth, then it's recommended to download the Full package. But if you are short on the internet, then try out the NOU build. Credits: XDA Senior Member daeSundae.
Full Firmware
NOU Firmware
Download libusb-win32
This is needed so that the userspace applications are able to access the connected USB devices on your Windows PC. Download: libusb-win32-devel-filter-1.2.6.0.exe. Once downloaded, launch the setup and proceed with the on-screen instructions to install it.
Install Python
You will also have to install Python onto your PC to manage the required dependencies. So download it from its official site. Download: Python. Once downloaded, launch the setup and checkmark the Add Python to Path option situated at the bottom. After that, proceed with the on-screen instructions to install it.
Download SP Flash Tool
Well, there's no guessing around as to why we need this file! So download it from the given below link and extract it to any convenient location on your PC. Download: SP_Flash_Tool_v5.2052_Windows.zip.
Install Python Dependencies
Head over to the location where you have installed Python. The default directory will be:

C:\Users\UserName\AppData\Local\Programs\Python\Python37-32

Now go to the folder's address bar, type in CMD in its address bar, and hit Enter. This will launch the Command Prompt window.

Type in the below command in this CMD window to install the required dependencies.

python -m pip install pyusb pyserial json5
Install Drivers
After this, go to the Bypass Tools Pack > Driver folder.
Right-click on the cdc.acm.inf file and select Install.
Install MediaTek USB Ports Drivers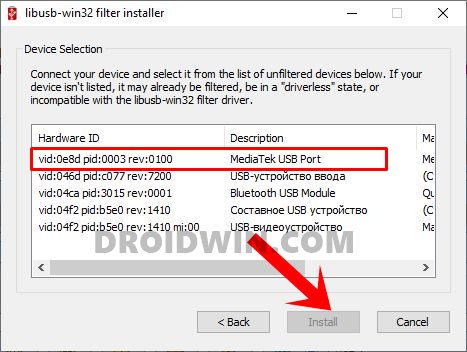 Plugin your device to PC by pressing the Volume Up and Down keys together (make sure it is turned off).
Now launch the libusb-win32 tool, select Install a Device Filter, and hit Next.
You should now see the MediaTek USB Ports. Select it and hit Install.
Disable BootROM Protection
Unplug your device from the PC and reconnect it by powering it off and then holding the Volume Up and Down keys together.
Now go to the Bypass Tools Pack > Bypass folder and double click on the brom.bat file to launch it.
You should now get the "Protection Disabled" message in the CMD window.
Unbrick Realme 6/6I/6S
Launch the SP Flash Tool on your PC.
Go to the Options menu and disable the Check LIB DA match option.

Now go back to the Main Menu and click on Choose next to Download Agent.
Navigate to the Bypass Tools Pack > Verified Boot Fix folder.

Choose the "DA_6765_6785_6768_6873_6885_6853.bin" file and select it.
Now click on Choose next to Scatter Loading File and load the Android Scatter TXT file from the downloaded firmware.

Also, make sure that the mode is set to Download Only. If it's not the case, then do so right away.

Finally, hit the Download button and wait for the process to complete. Once done, you shall be notified of the same via the green checkmark icon.

You may now unplug the device from your PC and boot it to the OS. Likewise, you may now close the tool as well.
So this was all from this guide on how to unbrick Realme 6/6I/6S using SP Flash Tool. While the steps are slightly longer, but at least it works and is able to bring your device back to life from a dead state. Concluding the guide, do let us know in the comments if you have any queries concerning the aforementioned steps. We will get back to you with a solution at the earliest.
About Chief Editor