From this post, you could download the TWRP Recovery for all the Samsung Devices and then install it via ODIN Tool. First off, we will be listing the official TWRP recoveries. The thing is not every device from the Samsung OEM currently has an official TWRP Recovery. In that case, we have managed to get our hands on those devices unofficial builds. TWRP Recovery or Team Win Recovery Project is the most widely used custom recovery for Android.
Well, every Android device does come with its own stock recovery, so what is the need for a custom recovery like TWRP? The thing is with stock recovery, you could clear cache, data, or install via Sideload, and that is it. The stock recovery isn't designed to carry out advanced functionalities. This is where the TWRP comes into the frame. With a plethora of functions, it has become every tech enthusiast's need, rather than a luxury. Let's check out some of the reasons that could further support this claim.
---
---
Advantages of TWRP Recovery
There are quite a lot of noteworthy features that the TWRP recovery brings in with itself. Here are just a few of them: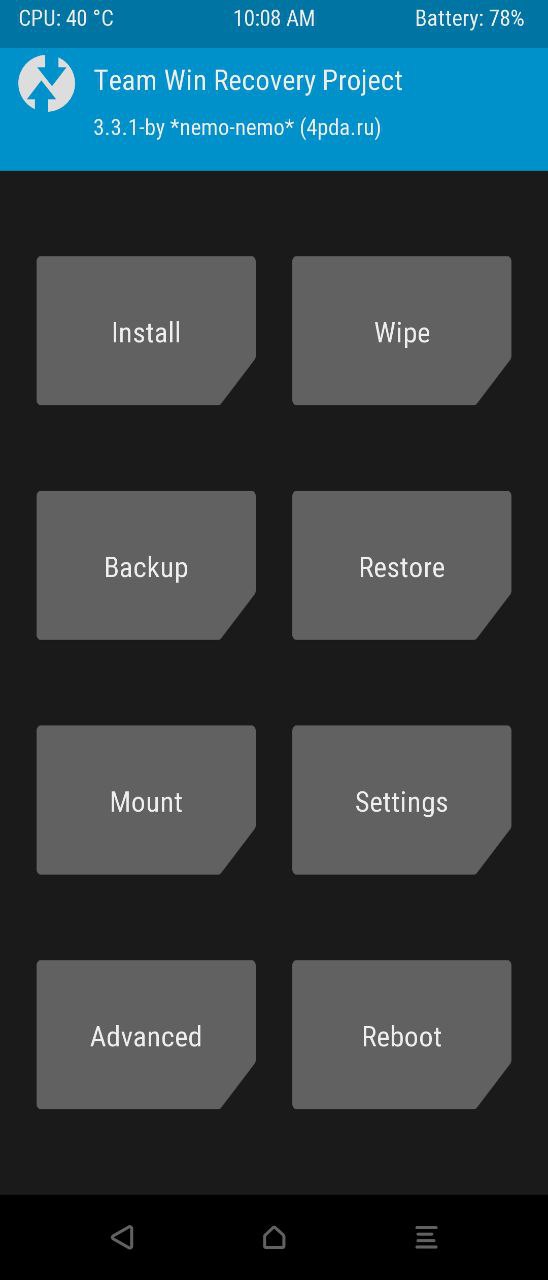 Installing a plethora of files including flashable ZIP files, IMG files, Custom ROMs, Modules, frameworks, etc.
Taking a complete Nandroid Backup: This does not only includes all the app data but also each and every device partition. In the case of a soft-brick or bootloop, you could easily boot your device to TWRP and restore this Nandroid backup. It will bring your device back to normal working condition.
Wiping Partitions: You could also wipe off various device partitions including the system, data, cache, vendor, etc.
Mount: TWRP also allows you to mount various external drives including Pen Drive.
Advanced Functionalities: It also holds some advanced functionalities like ADB Sideload, File Manager, Fix Recovery Bootloop, among others.
While these are indeed some pretty important features, every side has two coins and so does this one. There are some associated risks with TWRP Recovery as well. Here are a few of them.
---
---
Disadvantages of TWRP Recovery
Some OEMs only allows for installing official OTA updates via stock recovery. You cannot flash updates via a custom recovery like TWRP.
Flashing a custom recovery like TWRP is itself quite risky and might lead to a brick or bootloop device if you end up flashing an earlier build or messes up even a single step.
Unofficial builds always bring up some uninvited risks as well. And in the case of Samsung, most of the devices have unofficial TWRP support. The reason being the closed-source nature of the Exynos chipset.
So with this, you are now aware of the perks and risks with a custom recovery. If you are ready to install the TWRP Recovery onto your Samsung device via ODIN, then download the TWRP for your device from the below section and proceed with the installation steps that follow.
How to Install TWRP Recovery on any Samsung Device
Before we list out the instructions to install TWRP Recovery on any Samsung device via ODIN, there are a few prerequisites that your device should meet. Given below are all those requirements. Make sure your device qualifies all of them.
Prerequisites
Download ODIN
Finally, download the latest version of the Odin Tool on your PC as well. If that does not work out well and good, you could give a shot to any of the previous builds as well.
TWRP Installation Steps on any Samsung Device via ODIN
Launch the ODIN tool on your PC.
Boot your Samsung device to Download Mode and connect it to PC via USB cable.
Now under the ID:COM section, you should see a USB COM Port Number indicating a successful identification of your device by ODIN.
Next up, click on the AP button and browse to the TWRP Recovery .tar file that you could download from the next section.
Now head over to the options tab and make sure that Re-Partition is unchecked. if not, do so right away.

Finally, click on the Start button and wait for the process to finish. You should get a PASS message when that is done. And with that, you have successfully flashed the TWRP Recovery via ODIN on your Samsung device. Now refer to the steps given below to boot your Samsung device to TWRP Recovery
How to Boot any Samsung Device to TWRP Recovery
Turn off your Samsung device.
Now, for an older Samsung device, reboot to TWRP recovery mode by pressing and hold the Volume Up + Home + Power buttons together for a few seconds.
For newer Samsung devices, press and hold the Volume Up + Power together for a few seconds.
You could also boot your Samsung device to TWRP via ADB commands. For that, make sure USB Debugging is enabled. Thenhead over to the platform-tools folder, type in CMD in the address bar, and hit Enter. This will launch the Command Prompt.

Type in the following command in the CMD window to boot your device to TWRP:

adb reboot recovery
That's it. Your Samsung device will now boot to TWRP Recovery.
Unofficial TWRP Builds
Official TWRP Builds
So this was all from this guide on the TWRP builds for every Samsung Device and the steps to install them via ODIN Tool. If you have any issues with respect to any of the aforementioned steps or your device is missing from this list, do let us know in the comments. We will get back to you with a solution at the earliest.
About Chief Editor