In this tutorial, we will show you the steps to root Realme X3 and X3 Super Zoom without using TWRP Recovery via Magisk. We will be extracting the Realme OZIP stock firmware and then copying the stock boot.img file. Then we will be patching that stock boot image file via Magisk and ultimately flashing it via Fastboot commands. Follow along for the complete instructions.
Belonging to the BBK Electronics subsidiary that also holds the likes of Oppo, Vivo, and OnePlus, Realme has managed to carve out a rich name for itself. Two of its latest offerings, the Realme X3 and the X3 Super Zoom has already made the hype mill up and running. Talking about the latter, the 6.6 inches device has a 1080 x 2400 pixel resolution with a 120Hz refresh rate as well.
Under the hood, you get an octa-core Qualcomm SM8150 Snapdragon 855+ chipset with Adreno 640 GPU. Out of the box, you get the Realme UI based on Android 10 with two different5 variants: 128GB 8GB RAM, 256GB 12GB RAM. The quad rear camera setup spells out as 64+8+8+2MP. On the front, you get a dual 32+8MP selfie camera. All these features are supported by a 4200 mAh battery that has a 30W fast charging capability as well.
No doubt these are some impressive specs, but this is the beginning. You could make full use of your device once you enter into the custom development. All that is needed is an unlocked bootloader and administrative privileges in the form of the root. And in this guide, we are here to help you with just that. So without further ado, let's check out the steps to root Realme X3 and X3 Super Zoom via Magisk without using TWRP. But first, its time to address the elephant in the room, the complicated relationship between Realme OZIP and Root!
---
Magisk Guides
---
Rooting Realme Devices: What's the Major Hurdle?
There exist two different methods to root any Android device. The first one simply involves flashing the Magisk Installer ZIP via TWRP. However, not every device has a working custom recovery like TWRP. In that case, the second alternative stands rooting the device via Magisk. All that is needed is a stock boot.img file for your firmware which could then be patched via Magisk and flashed via Fastboot commands.
However, with Realme, things begin to get a little bit difficult in this. The thing is all the Realme stock firmware comes in OZIP extension. Hence you cannot extract the firmware contents 'the normal way'. You will have to make use of Python and a Decrypt tool to extract this firmware and get the boot image file. Trust us all these sounds difficult only on paper but in practice, it is way too much easier to execute. And in this guide, we will be making use of just that.
On that note, here are the complete instructions to root the Realme X3 and X3 Super Zoom device via Magisk without TWRP Recovery. here is the blueprint of this guide- we will first use Python and Decrypt tool to convert OZIP stock firmware to the ZIP package. Then we will extract that ZIP package via WinZIP or WinRAR. After this, the extracted stock boot.img file will be patched via Magisk. Finally, the magisk patched image fill be flashed via Fastboot on your Realme device. Follow ahead for the complete instructions.
How to Root Realme X3 and X3 Super Zoom
To begin with, there are a few requirements that your device needs to qualify. Make sure to go through them before you proceed with the rooting steps. Droidwin or any of its members won't be held responsible if anything happens to your device. Proceed ahead at your own risk.
Prerequisites
You may now proceed with the steps to root Realme X3 and X3 Super Zoom via Magisk, without TWRP Recovery. Follow along.
---
TWRP GUIDES
---
STEP 1: Unlock Bootloader
To begin with, you will have to unlock the device's bootloader. If you haven't done so, refer to our detailed guide on how to Unlock Bootloader of Realme X3 and Realme X3 Super Zoom. Do keep in mind that this process will wipe off all the data from your device and might also make the warranty null and void. Proceed ahead with caution.
STEP 2: Convert Realme X3/X3 Super Zoom Firmware from OZIP to ZIP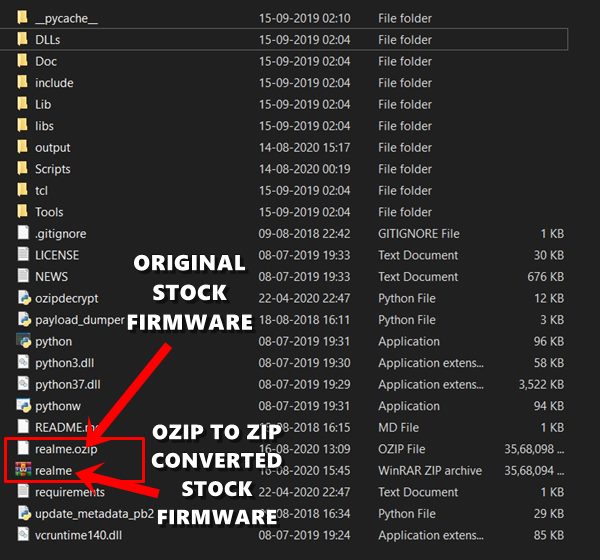 You now have to covert the Convert Realme X3/X3 Super Zoom Firmware from OZIP to ZIP. We need to do this because then only we could extract the boot image file from ZIP. Extracting an OZIP file is just not possible using WinZIP or WinRAR. For that, a specific set of tools and instructions are needed. So head over to our comprehensive tutorial on How to Extract OZIP Realme Stock ROM (Firmware)
STEP 3: Extract Stock Boot Image File
Once you have converted your device's stock firmware from OZIP to ZIP, make use of the WinZIP or WinRAR tool to extract the stock boot.img file. No need to extract all the contents of stock firmware. Just the boot.img file will do. Once you have extracted the file, move to your device's Internal Storage.
STEP 4: Patch Stock Boot Image via Magisk
STEP 4 & STEP 5 outlines the steps to patch stock boot.img file via Magisk and then flash it via Fastboot Commands. For detailed instructions on this topic, refer to our guide on how to Patch Stock Boot Image via Magisk and Flash it using Fastboot.
Launch Magisk Manager APK on your device.
Tap on Install next to the Magisk status (which would show Magisk is not Installed).
Now install Magisk popup will appear, tap on Install.

Under the Select method dialog box, tap on Select and Patch a file.
Navigate to the stock boot.img file that you have transferred to your device in the earlier section and select it.

Magisk will then patch this file and the entire process shall only take a few seconds.
Once that is done, head over to Internal Storage > Downloads folder and you will find the magisk_patched.img file there.
---
A/B Partition Guides
---
STEP 5: Flash Magisk Patched Boot Image onto Realme X3/ Super Zoom
Transfer the magisk_patched.img file from your device to the folder where Android SDK Platform Tools are installed. This should be the platform-tools folder on your PC.
Now connect your device to PC via USB cable. Make sure USB debugging is enabled.
Head over to that platform-tools folder, type in CMD in the address bar, and hit Enter. This will launch the Command Prompt.

Execute the following command in the CMD window to boot your Realme device to fastboot mode:

adb reboot bootloader

Finally, make use of the below command to flash the Magisk patched boot image file:

fastboot flash boot magisk_patched.img

Once the flashing is done, you may reboot your device. For that either use the hardware key or the below command:

fastboot reboot
That is it. These were the steps to root Realme X3 and X3 Super Zoom without using TWRP Recovery via Magisk. If you have any doubts concerning the above steps, do let us know in the comments section below. We will get back to you with a solution. Also, if you have any other doubts related to rooting. TWRP, bootloader, OZIP firmware package, then don't hesitate in asking us in the comments.
About Chief Editor