In this guide, we will make you aware of whether it is possible to recover and restore Google Authenticator codes after a factory reset or not. With the risks of online privacy and data security issues at an all-time high, you might have adopted various stringent security measures. In this regard, the first prerequisite is having a strong password, which consists of alphanumeric characters, dual cases, and symbols.
However, no matter how strong your password is, it's only a single layer of protection. Hence to add an additional layer of security, many users have enabled Two Factor Authentication or Two-Step Verification on their accounts. The first step remains the same as before: you will have to sign in with your account credentials. But after this, the 2FA kicks in.
Depending on the method you have chosen, you will now get a numeric code that you need to enter in the space provided. Once it verifies the code, you will be logged onto your account. So what exactly are the available methods at your disposal? Well, you could instruct the app to give you the code as an SMS, email, or an authentication app. Several users though prefer to go with the last option.
In this regard, you could try Google Authenticator, Microsoft Authenticator, Authy, among others. However, as of now, a large chunk is using the offering from Google. While the app does its job pretty well, but there's an "issue". And this revolves around if you could recover or restore Google Authenticator codes after a factory reset on your device or not. Let's check it out.
---
---
How to Recover Google Authenticator Codes after a Factory Reset?
Being a tech enthusiast, I regularly have to perform a wipe and factory reset on my device. But before doing so, I make sure that all my backups are well in place. However, I messed up with one thing! I failed to understand the 'backup and restore' functionality of Google Authenticator, and guess what, I'm not the only one!
In general, once you boot up the device after a reset, you will simply have to sign in with the last Google Account logged into your device. After this, you could easily restore all the required apps. But unfortunately, this is not how things work out inside the Authenticator environment. In this case, there exists no method to verify your credentials and get your codes restored.
In its defense though, Google could say that it is due to these reasons only that they provide the backup codes and advises the user to keep it in a safe place. However not many (including myself) follows this practice of keeping a backup of these codes. So all this makes one thing clear- we should always have the backup of the codes if we are going to stick with this service from the Silicon Valley giants.
But all this advice will come in useful from the next time onwards, aka this tip will come in handy for the future course of action. As of now, is there any method to recover the Google Authenticator codes after a factory reset? Unfortunately, the answer is in a negative tone, i.e there is no method whatsoever to recover and restore Google Authenticator codes after performing a factory reset.
So what should we do now? Even if you launch the app you would see the option to add new codes via the setup key or by scanning the QR Code. Then from its overflow option, you get the settings to transfer accounts (i.e import or export accounts). Unfortunately, none of them will come in useful in the present scenario.
The only thing that you could do is contact the concerned service provider on whose app/product you had enabled Two Factor Authentication. Then let them know the issue that you "have formatted or reset your Android device and after that, you have lost your Google Authenticator codes".
Just this much justification should suffice as they already listen to this query every other day and would have got the perfect picture regarding your query. With that said, once you have made them aware of this issue, they will verify your credentials using three-four different methods.
Once they are sure that you are the real account holder, they will remove the Two Factor Authentication from your service. After this, you may easily log into that account just by using the user ID and password. Once done, you may re-setup the Two Factor Authentication on your account by bringing up the QR code and then scanning the same via the Authenticator app.
Furthermore, this time make sure to save the backup codes as well. If you were to take my advice, it's better to save these codes offlines rather than saving them over to the web. [I have refrained from saving my confidential details on Google Keep right since the day the Google Server fiasco happended].
All in all, there doesn't seem to be any workaround to recover and restore Google Authenticator codes after a factory reset. But what about if your Android device is rooted? Well, let's check out the scenario in that case.
---
---
Possible to Restore Google Authenticator Codes in Rooted Devices?
If you have rooted your device or have a custom recovery like TWRP installed, then things might be a little bit easier. It is a general practice in custom development that before flashing any mods on the device, you take a Nandroid backup. For the unaware, this backup is different from the regular backups that you take via the device's Settings page.
A Nandroid backup takes a backup of each and every bit of data, right from the usual app data, to the Downloads folder and even the call logs. Upon restoring this data, you will have all the games and apps just in that exact same stage. Well, even the recent apps section will be as it is. So this might have given you a decent idea of where I am about to take you.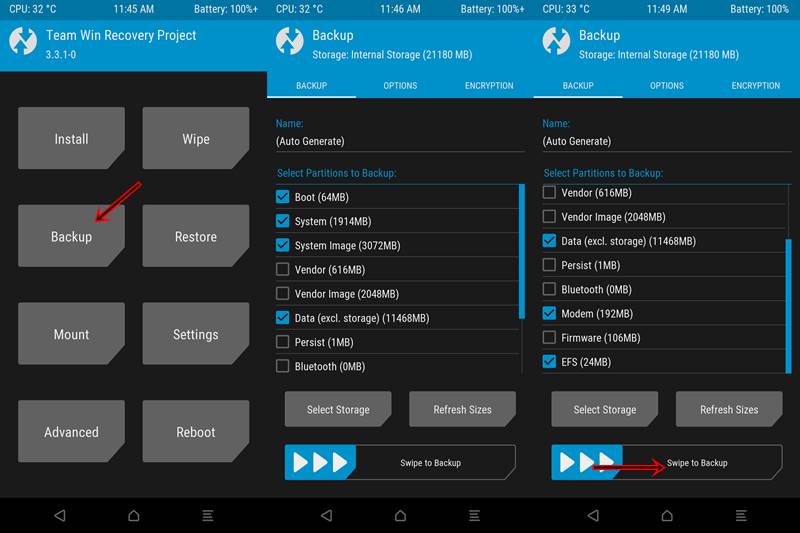 If you have the Google Authenticator app installed, then you just need to restore this backup and all your codes will be back. However, do keep in mind that you cannot just pick up the data of Authenticator from the entire Nandroid backup but would rather have to restore all the data.
On the flip side, if you have a rooted device but didn't create a Nandroid backup, then make it a regular habit of doing so. For the first time though, you will have to use the fix that we had mentioned above (i.e contacting the support team). However, it will come in handy for subsequent times. This is because it will save you from the efforts of manually saving the backup codes.
With that said, this method has a risk factor involved as well. The thing with rooting or installing a custom recovery is that you need to unlock the device's bootloader. And this could prove to be risky from the security point of view. So do keep this in mind before you proceed with a Nandroid backup.
---
---
Concluding Remarks
On that note, we round off this guide on whether is it possible to recover and restore Google Authenticator codes after a factory reset or not. While the answer is in a negative tone, but this is how things work out, and we don't have much say regarding the same. The only thing that you could do is to keep the backup codes in a safer place to avoid such things from happening in the near future.
Concluding this guide, we would love to hear your opinions about the same. Is Google correct in their approach of not giving an option to restore codes? Are users being inclined more towards the ease of access rather than the security aspect? Or the app should take this into consideration and add this feature in subsequent updates? Drop-in your valuable opinions in the comments section below.
About Chief Editor