In this guide, we will show you the steps to fix the issue of Pixel 4XL Battery Percentage showing '?'. Even though we are on the seventh iteration of the Pixel devices, but its fourth iteration is still going pretty strong. Be it its fingerprint or Soli, or impressive camera, it is right up there with the best that Pixel [or rather any Android device] has to offer. However, as of late, users are getting bugged with a rather weird issue.
Many of them have voiced their concern that their Pixel 4XL is displaying a question mark in place of the battery percentage. What is even interesting to note is all the Product Experts at the Google Forum have quoted this as a hardware issue. This doesn't make any sense as to how come all these users face the same hardware at the near about same time.
It is just the case of a big software update rolled out by the OEM which they are not willing to accept. Upon further debugging this problem, we found out that the issue started right after users had installed the September security patch. So the culprit is right in front of us and so is the fix! In this guide, we will list out a couple of methods that shall help you fix the issue of Pixel 4XL Battery Percentage showing '?'. Without further ado, let's check them out.
Fix Pixel 4XL Battery Percentage showing '?'
In order to rectify this bug, you will have to downgrade your device to an older security patch, earlier than September 2022. However, do note that doing so requires an unlocked bootloader, which in turn will reset your device and might nullify the warranty. So if that's well and good, then do check out either of the two below listed guides to perform this downgrade.
How to Downgrade Pixel Devices via Android Flash Tool
How to Downgrade Pixel Devices via Fastboot Commands
In this regard, the Android Flash Tool method is an automated approach that will do most of the work on your behalf, whereas the Fastboot Commands method is a manual approach wherein you will have to manually flash the files to their respective partitions. We have listed both these methods, you may refer to the one that is in sync with your requirement.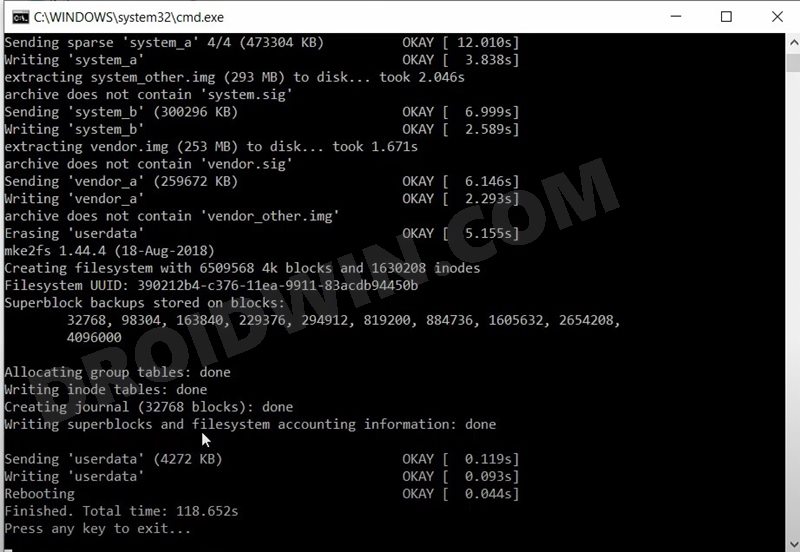 As of now, this is the only method through which you could fix the issue of the Pixel 4XL Battery Percentage showing '?'. As far as the official stance on this matter is concerned, the developers are aware of this issue, but they haven't given out any ETA for the rollout of a fix. And judging by how things stand, you shouldn't expect any either.
At the very most, you would be recommended to change your battery, which might not be the best course of action for everyone. With that said, if there is any official development surrounding this, we will update this guide accordingly. In the meantime, the aforementioned workarounds are your best bet.
---
About Chief Editor