In this guide, we will show you the steps to hide root from apps and games using Magisk DenyList. The benefits of getting administrative privileges over an open-source OS like Android stands aplenty. Among them, it's the ability to flash modules and tweaks that is at the top of the priority queue, However, this is just one side of the coin. Rooting has its own downsides as well, the primary among them is the fact that SafetyNet getting triggered.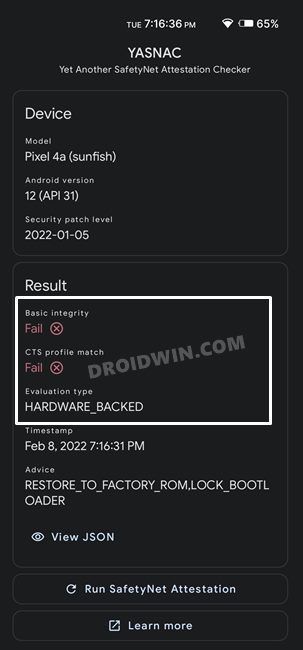 When that happens, some of the apps installed on your device will detect that the device is now rooted and hence will refuse to function. The majority of these apps belong to the payment and banking domain. Along the same lines, games like Pokemon Go wouldn't function either (because you will then be easily able to spoof the location). To counter this, Magisk came with a MagiskHide that allowed you to hide root from all these apps.
But now, the developer of Magisk has joined the Android Security Team and this feature (along with a few others) has been removed from the app, and that is completely understandable. However, this is where open-source comes in handy. Various developers picked up that task and with the introduction of Zygis in Magisk, you once again have the option to hide root from apps and games using its DenyList feature. And in this guide, we will show you how to do just that. So without any further ado, let's get started.
How to Hide Root from Apps via Magisk DenyList on Android 13
Before we start off with the instructions, make sure your device checkmarks all the prerequisites that we have listed below. If it doesn't qualify one [or all] of the requirements, then refer to the attached reference guide next to it and get that work done first [compulsory]. After that, you may come back to this guide to hide the root from your device.
Moreover, the below process will not wipe the data, but it is still recommended to be on the safer side and take a complete device backup beforehand. Droidwin and its members wouldn't be held responsible in case of a thermonuclear war, your alarm doesn't wake you up, or if anything happens to your device and data by performing the below steps.
STEP 1: Pass SafetyNet
First off, your device should pass the SafetyNet Test either via Universal SafetyNet Fix or Magisk Hide Props Config module. If that is not the case, then you could refer to our guide on How to Pass SafetyNet on Rooted Android 12/13.
STEP 2: Enable Zygisk and Enforce DenyList
Launch the Magisk App on your device and tap on the Settings icon situated at the top right.
After that, scroll to the Magisk section and enable the toggle next to Zygisk and Enforce Deny List.

Now restart the device for the changes to take place. Also, verify that Zygisk status is YES under Magisk.
STEP 3: Configure DenyList
Under the Magisk Settings menu, tap on Configure DenyList.
Now checkmark the apps from which you need to hide the root.

After that, tap on the overflow icon situated at the top right and select Show System App.
Now checkmark Google Play Protect Services, Google Play Services, Google Play Store. and Google Service Framework.

STEP 4: Hide Magisk App
Go to the Magisk settings menu and tap on Hide the Magisk App.
Then give it the desired name of your choice and tap OK.

The hiding process will now begin. Once done, it will ask whether you wish to have the app shortcut on the home screen.
For ease of convenience, you may select Yes and then tap on the Add to Home Screen button.

STEP 5: Delete Play Service and Play Store Data
Head over to Settings > Apps > See All Apps.
Then select Google Play Service and go to its Storage and Cache section.
After that, tap on Manage Space > Clear All Data.

Once that is done, go back and select Google Play Store.
Then go to the Storage and Cache section and tap on Clear Storage > OK.

Finally, restart your device for the changes to take place.
That's it. The root is now hidden from your chosen apps and games via Magisk DenyList. You may now launch the desired app and start using it normally. it wouldn't have even an iota of a hint that your device is rooted! If at any point in time, you wish to add any third-party or system app, then just head over to Magisk's DenyList section and checkmark the desired app. With that said, if you have any queries concerning the aforementioned steps, do let us know in the comments. We will get back to you with a solution at the earliest.
---
About Chief Editor