In this guide, we will show you the steps to force enable Jio and Airtel 5G on your Pixel 6A/7/Pro. It has been quite a rough journey for Indian Pixel users in the past couple of months. Whereas other OEMs have already rolled out the 5G support for their devices in India, the ones from the Silicon Valley giant were slated to get blessed with it in the month of December along with either the Feature Drop or security patch update.
Unfortunately, both came and went by but there was still no hint of 5G support anywhere. After waiting for the entirety of December, Google announced that the 5G rollout has been delayed and is now slated for the first quarter of 2023, which could mean anywhere till the month of March.
That could prove to be quite a long wait time for some of the users. If you are also in the same boat, then this guide will show you the steps to force enable Jio and Airtel 5G on your Pixel 6A/7/Pro right away. So without further ado, let's get started.
How to Force Enable Jio and Airtel 5G on Pixel 6A/7/Pro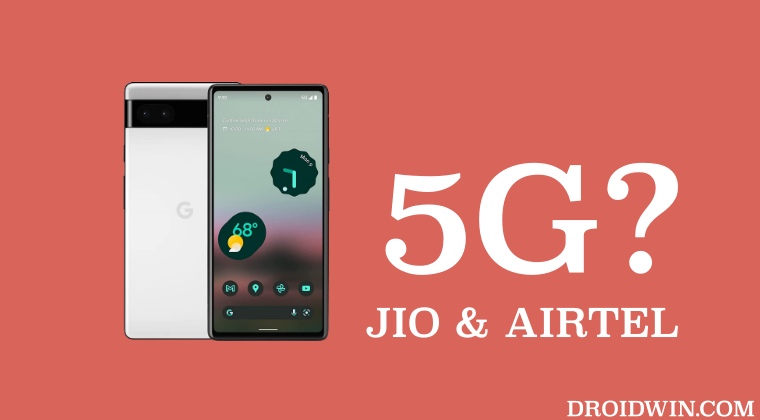 First and foremost, your device needs to be rooted. If that is not the case, then please refer to our linked guides to do the same How to Root Android 13 via Magisk Patched Boot. Once that is done, you may then start off with the below steps. Droidwin and its members wouldn't be held responsible in case of a thermonuclear war, your alarm doesn't wake you up, or if anything happens to your device and data by performing the below steps.
Download the 5G Magisk Module [Credits: XDA Senior Member meroine95].
Now launch Magisk, go to the Modules section, and tap on Install from Storage.
After that, navigate to the downloaded module and select it. It will now be flashed to your device.
Once done, hit Reboot. Now, go to Play Store and install the Network Signal Guru app.
Now launch the app and it will ask for root permission. Tap on Grant.
Then tap on the overflow icon situated at the top right and choose Forcing Control > select your SIM card.
Click on NR SETTING and select Opt2(0x10) and Opt3(0x01) on the ENDC menu.
Now restart your phone, bring up the dialer, and type in the below code-

*#*#4636#*#*

Then select Phone Information and tap on Set Preferred Network Type.
Make sure to set it to NR/LTE/GSM/WCDMA [if it hasn't been done already].
That's it. These were the steps to force enable Jio and Airtel 5G on your Pixel 6A/7/Pro. If you have any queries concerning the aforementioned steps, do let us know in the comments. We will get back to you with a solution at the earliest.
---
About Chief Editor