In this guide, we will show you the steps to downgrade your Asus Zenfone 9 from Android 13 to Android 12. If you are looking for a power-packed device with top-of-the-end specs, then you will also have to get used to large screen sizes. However, that might not be in sync with every user's requirement as there is still a noticeable chunk of the user base who wish to have a compact phone with high-end features.
if you also echo the same thought process, then the ninth iteration of the Zenfone might just be able to checkmark all your prerequisites in some style. Moreover, since this is the company's flagship offering, you are guaranteed the fastest OS upgrades. And that has indeed been the case. The device has just been blessed with the thirteenth iteration of the OS. While the update is stable, it is still in its early stage and a few bugs and issues might be the expected lines.
Likewise, there could be a few apps that might not be able to function in the latest environment. So if you have updated your Asus Zenfone 9 to Android 13 but are currently facing any of the aforementioned issues, then you have the option to downgrade it to Android 12. And in this guide, we will show you how to do just that. So without further ado, let's get started.
How to Downgrade Asus Zenfone 9 from Android 13 to Android 12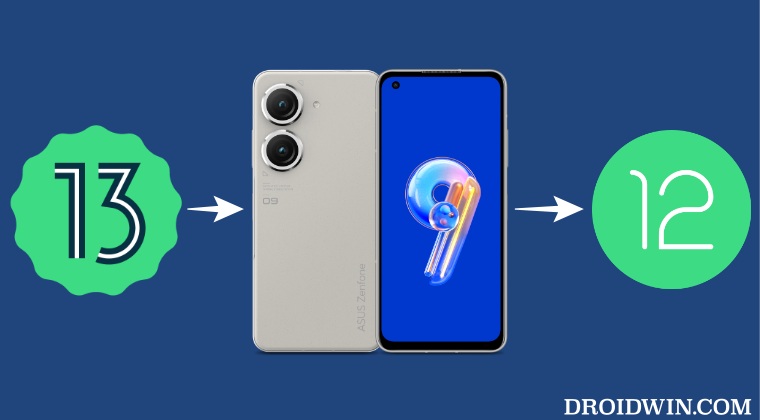 The below process will reset your device, so take a complete data backup beforehand. Droidwin and its members wouldn't be held responsible in case of a thermonuclear war, your alarm doesn't wake you up, or if anything happens to your device and data by performing the below steps.
Get hold of the downgrade firmware from below and transfer it to your device

ZenFone 9 (AI2202) WW-32.2050.2050.34 for WW SKU

Next up, Asus recommends that you remove the Google account from your device.
Once done, pull down the quick setting list. You should see a prompt that your device has detected a downgrade firmware.
Tap on that notification and the downgrade process will now begin.
It could take a few minutes. Once done, your device will reboot to Android 12.
That's it. These were the steps to downgrade your Asus Zenfone 9 from Android 13 to Android 12. If you have any queries concerning the aforementioned steps, do let us know in the comments. We will get back to you with a solution at the earliest.
---
About Chief Editor