In this guide, we will show you the steps to access the Data and OBB folder in Android 13 and transfer files in them. Back in Android 11, Google introduced Scoop Storage which prevented File Managers from being able to access the Data and OBB folders. However, the app developers managed to quickly find a loophole and hence made it possible to gain entry to these folders.
However, Google quickly got hold of that loophole and unfortunately in Android 13, it has been patched. As a result of which, you wouldn't be able to access the Data and OBB folders on your device running Android 13. When you try to do so, the File Manager will ask you to grant it access to the said folder. But when you tap in Grant, it will notify you that it cannot use that folder and even the Use this folder button will be greyed out.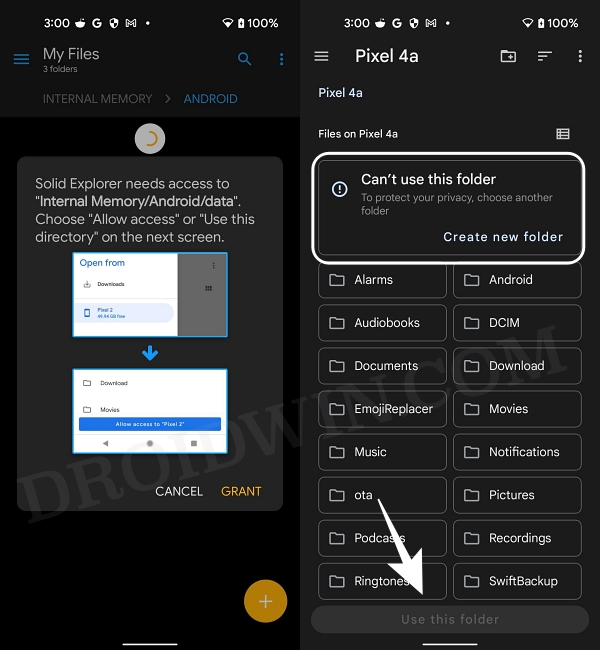 But, as you might be aware, restrictions don't last for long in this open-source ecosystem! There is still another loophole present in Android 13 using which you could easily bypass this restriction and gain access to the Data and OBB folder. And in this guide, we will show you how to do just that. So without further ado, let's get started on this intriguing journey. [Also attached is the video at the end of this guide, do check it out as well].
How to Access Data and OBB folder in Android 13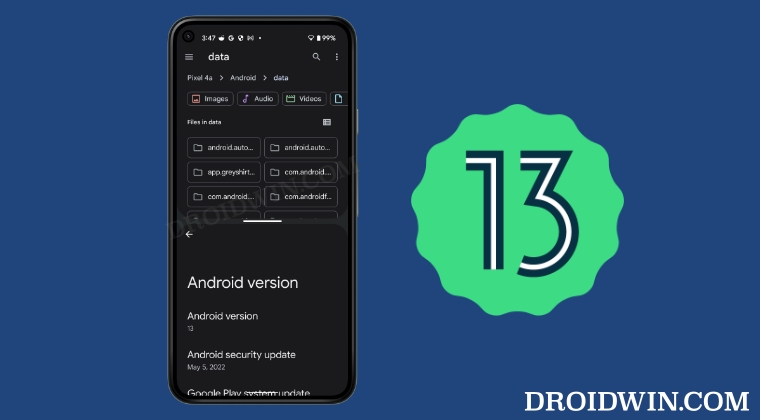 You might not be aware of this, but every Android device comes with a hidden File Explorer. But you cannot launch it the normal way as it isn't present in the app drawer. So will be invoking it using a third-party app and then carrying out the rest of the tweak using that hidden file explorer.
First off, temporarily disable the file manager app that came preinstalled on your device [such as the Files by Google app on Pixel devices].
If you don't do so, then it wouldn't let the hidden file manager do its job. So head over to Settings > Apps > See All Apps.
Then the preinstalled file manager app and tap on Disable > Disable in the confirmation prompt.
Once done, download the Files app from Pay Store [it is the app that will invoke the hidden File Manager app].
Now launch it and it will straightaway launch the hidden file File Manager app.
You will now be able to access the Android/data and the Android/obb folder without any issues!
How to Transfer Files in Data and OBB folder in Android 13
While accessing the data and obb folder in Android 13 proved to be a cakewalk, the same cannot be said for transferring files in these folders. But thanks to another interesting workaround, you could now easily get this job done pretty easily. Let's check out how this could be achieved:
To begin with, launch the hidden file explorer on your device using the steps listed above.
Then tap on the overflow icon situated at the top right and select New Window.
Now go to the Recents screen and you should see two instances of the file explorer app.
Long press on one of its icons and select Split top. Then select the second instance of that app.
Both versions of the hidden file explorer app should be right in front of you.
So go to Android/data or Android/obb directory in the "upper" file explorer.
On the other hand, go to the desired file that you need to transfer from the "lower" file explorer.
Now long press the file to be transferred from the lower file explorer and then transfer it to the upper File Explorer!
Video Guide to Access Data and OBB folder on Android 13
That's it. These were the steps to access the Data and OBB folder in Android 13 and transfer files in them. Do let us know what you think of this intriguing tweak in the comment section below. Likewise, all your queries are welcomed in the comments. Rounding off, let's just keep our fingers crossed and hope this loophole doesn't get patched by Google, at least in this OS version, and the next one, and the next…
---
About Chief Editor