In this guide, we will show you two different methods to fix the Magisk bootloop issue using TWRP Recovery. When it comes to gaining administrative rights and system privileges, there an easy way out. As soon as you unlock the device's bootloader, you just need to root it via Magisk, which, in itself, could take in two different approaches.
These include flashing the Magisk ZIP via TWRP or flashing Magisk patched boot.img via Fastboot). And once you are rooted, you stand in a position to try out a plethora of mods and tweaks. These include the likes of Magisk Modules, Xposed Framework, Substratum Themes, Viper4Android. It is these Magisk Modules, that have become the go-to choice for tech enthusiasts.
However, in spite of all the goodies that they have to offer, they aren't free from their fair share of issues. One of the most common ones is the device going to a bootloop or getting soft-bricked, right after flashing a module. Well, if that ever happens with you, then this guide is here to help you out. Given here are the two different methods to fix the Magisk bootloop issue using TWRP Recovery.
How to Fix Magisk Bootloop using TWRP Recovery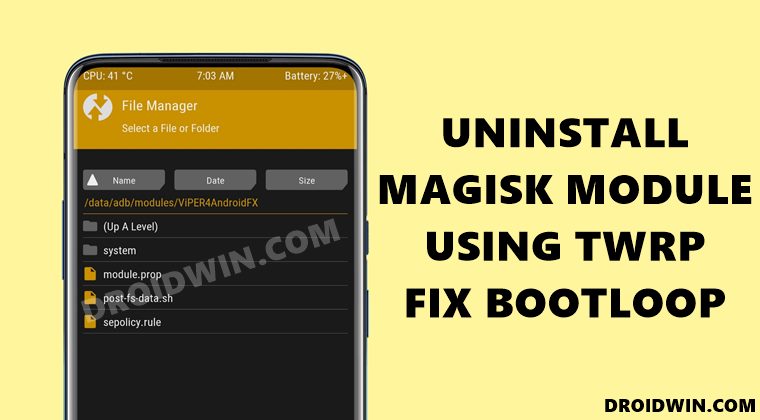 In the first method, we would only be using TWRP Recovery. We would not take the help of any third-party module. On the other hand, the second method would require TWRP and an additional module as well. We are sharing the instructions for both these methods below.
You may try out the one that meets your requirement. Droidwin and its members wouldn't be held responsible in case of a thermonuclear war, your alarm doesn't wake you up, or if anything happens to your device and data by performing the below steps.
Uninstall Magisk Module only using TWRP Recovery
To begin with, boot your device to the Recovery Mode. For that, you may use your device's hardware key combinations or use the below command:

adb reboot recovery

Once booted to TWRP, go to the Advanced section and select File Manager.

Now navigate to the below location using the File Manager:

/data/adb/modules

You should now see a list of all the installed modules. Head over to the one that you want to remove. If you aren't sure of the module that caused the bootloop, then more often than not, it the last installed one. So you could start off by removing the last installed module.
As an example, let's suppose Viper4Android caused a bootloop and we need to remove it. So go to its folder, tap on the Bluetick mark icon situated at the bottom right, and select Delete.

Finally, perform a right swipe to confirm it.

That's it. You may now reboot to the OS. For that, go to Reboot and select System. Your device should now successfully boot to the System and the module would have been uninstalled as well. To verify the same, you may head over to the Magisk App and check out the Modules section.
However, if you are still stuck in a bootloop, then again boot to TWRP, and remove the other installed modules in the same manner as discussed above. You might have to keep on doing so until the issue-causing module is removed and your device does boots to the OS.
On that note, we conclude this section as to how you could fix the magisk bootloop issue using just TWRP Recovery. Let's now check out the steps to do so using TWRP + Module.
Fix Magisk Bootloop using TWRP Recovery and Module
If you want to take the help of a third-party module, then the Magisk Manager for Recovery Mode does its job quite effectively. You need to flash it directly via TWRP, then access it via TWRP's Terminal and finally remove the trouble-causing module right from the recovery itself. All these have been explained in depth in our comprehensive guide: How to Uninstall Magisk Modules using TWRP Recovery. Do check it out.
With this, we round off this guide on how you could fix the Magisk bootloop issue using TWRP Recovery. We have shared two different methods for the same, do let us know in the comments which one worked out for you. Likewise, if you have any queries concerning the aforementioned steps, let us know via the comments.
---
About Chief Editor