In this guide, we will show the steps to fix the Apple TV app not working on Roku: Video not available error. The TV App from the Cupertino giants beholds a plethora of TV shows, series, movies, and a few streaming services as well. Along the same lines, there are a few Apple-exclusive contents. Moreover, this app isn't just limited to Apple devices, rather you could enjoy these offerings across various platforms.
However, not everyone is able to enjoy the goodies from the app across the popular Roku platform. A plethora of complaints is lined up across various Apple Discussion Forums regarding the app's inability to function on the said platform. According to the concerned users, whenever they are trying to play any content from the Apple TV App onto their Roku devices, they are being greeted with the following error message:
Video Not Available. There's a problem loading this video. If this continues, check your internet connection.
So is the issue with this hardware digital media player or does the blame lies with the tech giants? Well, as of now, there's nothing official or concrete, but all hints point to the latter as the culprit. This is because all the other apps such as HBO Max, Netflix, Disney+ are working well and good on Roku, so this is specifically an issue with the Apple TV app.
While this issue is quite infuriating, to say the least, there does seem to be a workaround that has been known to work out for quite a few users. And in this guide, we will make you aware of that method. So without further ado, let's get started with the guide to fix the Apple TV app not working on Roku: video not available error. Follow along.
Fix Apple TV App not working on Roku: Video not available error
To begin with, head over to the Settings menu on your Roku device.
Then select Audio > HDMI.
Now change the HDMI Audio Settings from Auto Detect (Auto Passthrough) to Dolby Digital.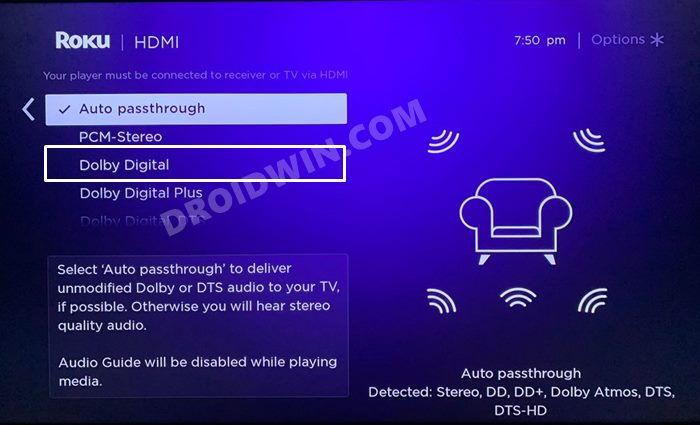 That's it, you should have no trouble now in streaming the desired Apply TV App contents on your Roku devices. Do keep in mind that this is the only workaround that seems to have spelled out success for the user. Though some of them have also tried deleting and reinstalling the Apple TV app, disabling and re-enabling it, restarting the device, or switching over to a different connection, none worked out in their favor.
So as of now, changing the HDMI Audio Settings seems to be the best bet when it comes to fixing the Apple TV app not working on Roku: video not available error. With that said, we will be continuously updating this guide as and when there's any official wording from either of the two concerned parties. Rounding off, do let us know in the comments section if the above-mentioned tweak worked out for you or not.
---
About Chief Editor