In this guide, we will show you how to create a combination firmware for your Samsung device and then flash it via Odin. First off, we will make you aware of what exactly is a combination firmware. Then we will list out the various advantages of this firmware. After this, we will show you how to manually create this firmware. Finally, the steps to flash this combination firmware via Odin will be shared. So without further ado, let's get on with the guide.
---
---
What is a Samsung Combination Firmware
A Combination FIrmware is a customized firmware for Samsung devices that are created by using the AP and BL files from the stock firmware. To be more precise, this firmware consists of boot.img.lz4, and system.img.lz4 and sboot.img.lz4 files. This firmware is then packed into a TAR format and then flashed via Odin Tool. But what is the real need for this firmware? Well, let's check it out.
Benefits of Samsung Combination Firmware
Well, there are a lot of reasons as to why you might want to create a combination firmware for your Samsung device and then flash it via Odin. Here are some of the noteworthy ones:
Bypass FRP
Factory Reset Protection is a security mechanism introduced by Google in Android 5.0 Lollipop and later devices. It prevents unauthorized access to your device after it has been formatted. To continue using the device, you will have to enter the Google Account ID and password that you have signed in to your device. While this is all well and good, but what if you forgot the ID and Password? Well in those cases, you could easily bypass this FRP lock via this combination firmware.
Fix Softbrick or Bootloop
Flashing a combination firmware can be used to fix the bootloop or Softbrick issues on your Samsung device. Likewise, it could also be used to fix the issue of the device getting stuck in the Recovery Mode or at the Samsung logo during device boot up.
Fix IMEI
Flashing custom binary might prove to be risky in some instances and could even corrupt the EFS partition of your device. This is the same partition where your device's IMEI number is stored. So any issues with this partition might be a cause of concern for the end-user. But if that happens, you may create a combination firmware for your Samsung device and then flash it via Odin. This will repair the EFS partition and would hence fix issues with the IMEI number as well.
For Debug Purposes
This firmware could also be flashed for testing purposes. it allows you to enable the Service test menu and carry out various hardware/software tests. Along the same lines, you could also debug underlying device issues using this file. Not to mention the fact that it also spells out complete device formation related to each component which might come in useful for tech geeks.
So these were some of the useful features of this firmware. Let's now check out its installation steps.
---
---
How to Create Samsung Combination Firmware and Flash it via Odin
Now that you are aware of this firmware and its usage, let's get on to the crux of this article. All the instructions are given in a separate instruction set for ease of understanding. Follow along.
STEP 1: Download Samsung Firmware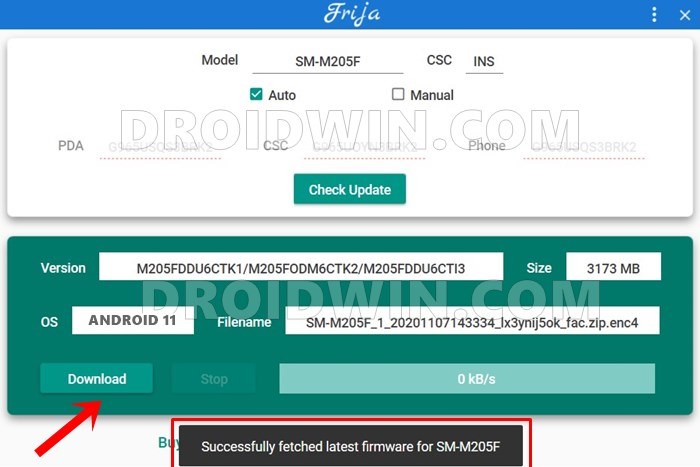 First and foremost, you will have to download the stock firmware for your Samsung device. In this regard, you may refer to our comprehensive coverage on this topic: How to Download Samsung Stock Firmware/ROM via Frija Tool. In short: install the Frija Tool on your PC, type in your device's CSC and Model Number, and hit the Download button.
STEP 2: Extract Samsung Firmware
Once you have downloaded the firmware, it will be in compressed format (ZIP). So use an extraction software such as WinZIP or WinRAR to extract the contents of that file. Upon extracting, you will get the following five files (all in .MD5 format): AP, BL, CP, CSC, and Home_CSC.
STEP 3: Create Samsung Combination Firmware
It's now time to create the Samsung Combination firmware which will then be flashed via Odin. To begin with, you will have to convert the AP and BL file to ZIP. Here's how:
First off, right-click on the AP firmware file and select Rename. Then add .zip after .md5.

So if the original AP file name was:

AP_M205FDDU6CTK1_xxx_user_low_ship_meta_RKEY_OS10.tar.md5

It should be renamed to:

AP_M205FDDU6CTK1_xxx_user_low_ship_meta_RKEY_OS10.tar.md5.zip

You will get a Rename confirmation dialog box, tap on Yes.

In the same manner, also add .zip after .md5 in the BL firmware file. For example, if the BL file name was:

BL_M205FDDU6CTK1_xxx_user_low_ship.tar.md5

It should be renamed to:

BL_M205FDDU6CTK1_xxx_user_low_ship.tar.md5.zip

Again, you will have to reply in the affirmative in the confirmation dialog box that appears.

Once you have converted both the files to ZIP, it's time to extract them. First off, extract the AP file via 7ZIP. (WinZIP/WinRAR software gave me encryption issues, only 7ZIP was able to handle this task).
After you have extracted the AP file, you will get a few partition files in LZ4 format as shown below. Copy the boot.img.lz4, and system.img.lz4 files from there and paste them inside a new folder (let's name this new folder Samsung for the sake of simplicity).

Likewise, extract the BL firmware file via 7ZIP and you will again get a few LZ4 files. Copy the sboot.img.lz4 file from here and move it to the Samsung folder where you have pasted the other two files (boot.img.lz4, and system.img.lz4).

Now select all these three files of the newly created Samsung folder. Then right-click on it and create a new compressed folder having these three files. For example, WinZIP and 7ZIP will show you the option to Compress to Samsung.ZIP.

Once the ZIP file is created, give it the same name as that of the stock downloaded firmware. And change the extension from ZIP to TAR.

As an example, my stock firmware has the name:

SM-M205F_1_20201107143334_lx3ynij5ok_fac

So I will rename the Samsung.zip folder to:

SM-M205F_1_20201107143334_lx3ynij5ok_fac.tar
That's it. You have successfully created the Samsung Combination Firmware, it's now time to flash this file via Odin. Follow along.
---
---
STEP 4: Reset Samsung Device and Enable USB Debugging
Before installing the combination firmware, you will have to reset your device. If you are able to access it, then you could perform a reset from the Settings page itself. On the other hand, if you are stuck in the setup screen (FRP Lock), then you wouldn't be able to access the Settings page on your device.  In that case, you will have to perform the reset from the Recovery mode. Instructions for both are given hereby.
First off, if you could reset from the Settings, then take a backup beforehand. After that, go to Settings > General Management > Reset > Factory Data Reset. Once the reset is complete, go to Settings and enable Developer Options and USB Debugging.
On the other hand, if you are stuck in FRP, then you will have to boot your device to the stock recovery using the hardware key combinations. Once you boot to Recovery, use the Volume keys to select Wipe Data/Factory Reset and then hit the Power Key to confirm the selection. After the wipe is complete, select the 'Reboot system now' option via Volume Keys and press the Power key to confirm it.
Once your device boots up, you might be taken to the factory binary screen. Tap on the three rows of dots present at the top left (see above image) and go to Settings > Developer Options > Enable USB Debugging. Once you have performed the reset and enabled USB Debugging, proceed with the below steps to flash the Samsung Combination Firmware via Odin
STEP 5: Download and Install Modified Odin
In some cases, the original Odin tool might not come in handy. This is usually when you are flashing a cross-region firmware and getting the "FAIL! Blocked carrier", bypassing FRP via Combination firmware, fixing the FAIL! SHA256 is invalid! error and the likes. In those cases, you will need the Modified Odin Tool.
We have shared four different builds of the Modified Odin Tool, you could try out any one of these (unless the developer has specifically mentioned you try a said variant). As a general rule though, it is suggested to use the Odin3 3.14.1 3B PatcheD for devices released after 2018 and Odin3 3.13.3 3B PatcheD for older Samsung devices.
STEP 6: Boot Samsung Device To Download Mode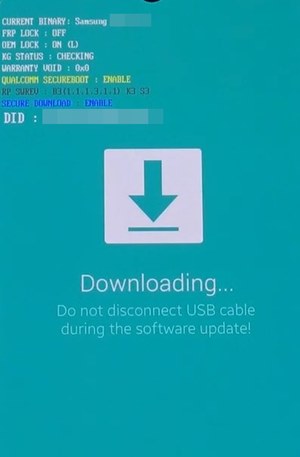 Odin Tool could only interact with your device when it is booted to the Download Mode. In this regard, different Samsung devices follow different hardware combinations to boot your device to Download. So you could refer to our comprehensive guide for this: How to Boot any Samsung Device to Download Mode.
STEP 7: Install Samsung Combination Firmware via Odin
Now that you have created the Samsung Combination firmware, it's time to flash/install it via Odin. Here are the required instructions for the same:
With your Samsung device booted to Download Mode, connect it to your PC via USB.
Launch the Odin tool on your PC. You should then see the ID:COM section being highlighted, indicating that the device has been recognized by your PC.

Now click on the AP button and load the Combination firmware that you have created.

After this, head over to the Options section of Odin Tool and enable Auto Reboot and F. Reset Time options (rest all should remain disabled).

Finally, hit the Start button and wait for the process to complete. Once done, you should get the Pass message and your device will reboot automatically. You may now unplug the device from your PC and close Odin as well.

That's it. These were the steps to create a Samsung Combination Firmware file and flash it via Odin. If you have any queries, do let us know in the comments section below. We will get back to you with a solution at the earliest.
---
About Chief Editor